When you sign up for the K-W Central Art Walk newsletter, you'll get advance notice on all updates, as well as a digest of recent activity on the blog, to help inform you for our event. You'll also be eligible for special deals and contests reserved for our loyal fans.
If you've signed up through our Calling Card, you'll receive our newsletter automatically.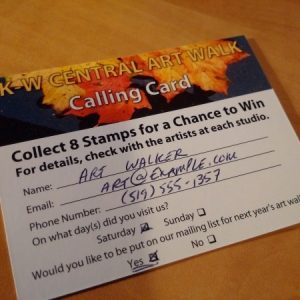 If, at any time, you want to unsubscribe from this list, you can do so by following the unsubscribe link in your email.