The Central Art Walk is a yearly studio tour and sale in the beautiful Kitchener neighbourhoods bounded by King, Victoria, Weber, and Union streets. Come visit, and get a chance to see artists in their own studios, displaying fine art, jewelry, paintings, food, photography, pottery, glass, collage and fibre arts.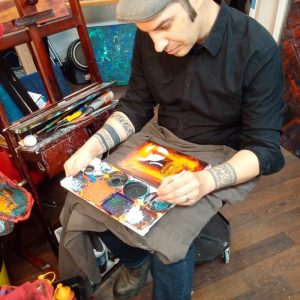 For art walk information, email info@centralartwalk.com.
For website information, email webmaster@centralartwalk.com.
Mailing List
If you want to be added to our mailing list and notified when an important update occurs, please sign up for our newsletter.
To be removed from our mailing list, please follow the "unsubscribe" link in your email, and we will no longer contact you.
Copyright Information
All images and quoted text reproduced in this blog are copyrighted by the specified artists and authors.
None of the images or quoted text reproduced here may be used or copied in any way without express permission from the artist or commenter.
Where not otherwise specified, this work (i.e. blog) is licensed under a Creative Commons License permitting non-commercial sharing with attribution.
Privacy
See our privacy page for more information.
Blog Comments
The owner of this blog reserves the right to edit or delete any comments submitted to this blog without notice due to;
1. Comments deemed to be spam or questionable spam
2. Comments including profanity
3. Comments containing language or concepts that could be deemed offensive
4. Comments that attack a person individually
Terms and Conditions
All content provided on this blog is for informational purposes only. The owner of this blog makes no representations as to the accuracy or completeness of any information on this site or found by following any link on this site. The owner will not be liable for any errors or omissions in this information nor for the availability of this information. The owner will not be liable for any losses, injuries, or damages from the display or use of this information.
This policy is subject to change at anytime.