Hi my name is Jason Fallaise, I am a high school teacher with the Waterloo Region District School Board. I obtained a degree in Fine Arts from the University of Guelph in 1985. I create paintings in watercolour and acrylic. I enjoy working with the qualities each medium provides. My paintings have been purchased in major fundraising events such as Swing in the Park for ROOF, the Grand River Hospital Silent Auction and the Brain Injury Society Art Auction. I live in Waterloo and can be reached by email jfallaise@rogers.com or by phone 519-888-7838.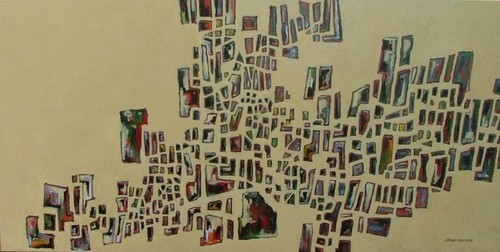 Artist Statement
The subject matter for my work falls into three categories street scenes, abstracts and landscapes.
The subject matter for my street scenes are obtained locally and from my travels abroad. Creating works in watercolour is a real joy for me. Working quickly and spontaneously is an approach that is suited for my personality. I like to apply colour quickly to allow the picture to have a natural and spontaneous feel. I choose architecture because I like the visual elements it provides. Line is used to enhance textural possibilities by defining shapes, forms and colours. I like the compositional structure that line, shape and colour can provide.

The abstracts that I create represent my reaction to the urban environment. Drawing is an essential part of my artistic process. These paintings are generated in my sketchbook where I like to express, explore and formalize visual ideas. In these abstracts I want to express the energy and structure of large urban environments.
My approach to landscape painting is through direct observation with the subject matter. I like to paint on site either with watercolours or acrylics. Sometimes I will complete a small sketch on site and then work up a larger version in my studio. Light and colour is the most important consideration when I am landscape painting.