As an artist, I am still in the infant stages of trying to understand and interpret the world around me. I have had a long time interest in photography, spending countless hours working in black and white 35 mm, both behind the camera and in the darkroom. At that time I recognized that my interest was driven by trying to understand what was behind the objects I was portraying – exploring texture, mood or emotion. While still actively engaged in photography, I have moved into the realm of painting as a medium to continue the deeper exploration of those themes that I found so engaging in me earlier years. Much of my painting takes form through multi-media abstracts. My inspiration is often driven by natural elements of rock, stone and wood like the rugged landscapes of the Canadian Shield. What brings energy to me from those landscapes is the connection between living spirit of the present with elements that are thousands or millions of years old. This same connection between layers of evolution of human spirit, stone, earth and water was a powerful inspiration that was absorbed through travels to ancient villages in the South of France.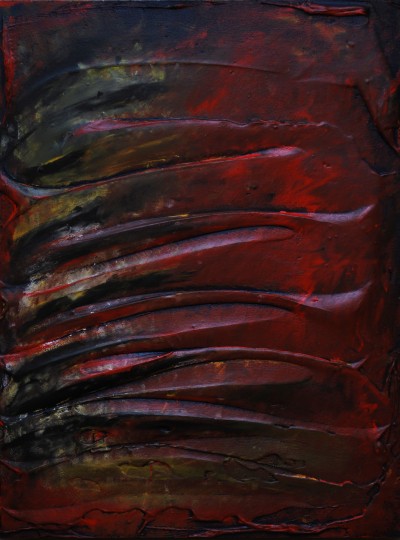 In order to present my paradigm of ever evolving spirit, emotion and the physical world I developed a technique that allows the paintings to have both a physical as well as visual element. The base is either plywood or Masonite, prepared to allow for the adhesion of a layer of concrete/mortar. Development of the mortar layer allows for a variety of textures and fluidity to emerge that would not be possible with other dimensional substrates. The shape and flow are very much inspired by the emotional vision for the finished piece. Gesso, tinted with a base colour, is painted over the cured concrete as a base on which acrylic paint is applied. Colours are primarily motivated by the spirit element of the work, developed in harmony with the emotional aspects. A range of tools are used for working with the concrete and paint – brushes, palette knives, hands, sponges – whatever is necessary to achieve the desired effect. Music is an important energizer when developing these works as it has the ability to transport me from my current space and time and take me to new worlds where I fell as though I am participating in the painting rather than working on the painting. Inspiration comes from an eclectic mix of Tom Waits, Muddy Waters, Rolling Stones, Miles Davis, Harry Manx and a range of Native folk artists.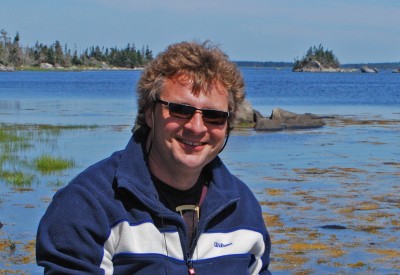 I have been a resident of Waterloo for over 20 years with 19 of them in the city core. I'm married with 3 teenage children and work in the local technology sector.